"The Lord Himself will give you a sign; Behold, the virgin shall conceive and bear a Son, and His name shall be called Immanuel." (Is 7:14)
The virgin birth was a sign and a miracle. It defied the laws of nature! When I was on a tour in Israel many years ago, a Jewish Rabbi asked me to show him a scripture in the Old Testament that talked about Jesus. I showed him Isaiah 7:14. He said to me, "The word virgin in the Hebrew language just means a young woman." I said, "What kind of sign would that be? It's not a miracle for a young woman to have a baby!" He was silent and walked away!!

(Luke 1:26-28) "Now in the sixth month the angel Gabriel was sent by God to a city of Galilee named Nazareth, to a virgin betrothed to a man whose name was Joseph, of the house of David. The virgin's name was Mary. And having come in, the angel said to her, "Rejoice, highly favored one, the Lord is with you; blessed are you among women!"
---
When you learn to cooperate with God in the working of miracles, you will be blessed too!
---
"Then the angel said to her, "Do not be afraid, Mary, for you have found favor with God. And behold, you will conceive in your womb and bring forth a Son, and shall call His name JESUS…" Then Mary said to the angel, "How can this be, since I do not know a man?" (Luke 1:30-34)

Mary wanted to know how God was going to do it. "The Holy Spirit will come upon you, and the power of the Highest will overshadow you; therefore, also, that Holy One who is to be born will be called the Son of God."

Notice Mary's response to all of this. "Be it unto me according to Your Word." (verse 38)
Four Keys to the Working of Miracles:
Hearing the Word of God
(1 Cor 12:8) "For to one is given the word of wisdom through the Spirit, to another the word of knowledge by the same Spirit." (Rom 10:17) "Faith comes by hearing and hearing by the word of God."
Believing the Word
(Mark 16:17) "These signs will follow those who believe. In My name they will cast out demons; they will speak in new tongues…They will lay hands on the sick, and they will recover"
You Have To Speak It
(Heb 11:3) "By faith we understand that the worlds were framed by the word of God, so that the things which are seen were not made of things which are visible." We frame our own world by the words we speak.
Act on the Word
Sometimes miracles happen, just by speaking the Word. But, in other cases, a miracle is only going to happen as we act on an instruction the Lord has given us. The key to miracles and success is this: "Whatsoever He says to you, do it!"(John 2:5)
May the God of Miracles fill your life with miracles of His power, His provision, and His peace this Christmas!

Merry Christmas to you and yours!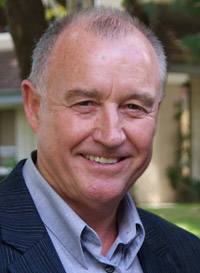 Dr. George Hill
President & Founder
Victory Churches International